If you're looking for a Top 10 list, you're not going to find one. That's not how my brain works. Here's an alphabetical list of everything I remembered watching in 2021, that was new in 2021 (so Lovecraft Country doesn't make this list).
So rather than a generic list, here' a bunch of random thoughts I had about media during the past year.
SPOILERS, OBVIOUSLY.
Favorite single line of dialogue:
Wandavision, Disney+
No, it's not "It was Agatha All Along."
I was not expecting that kind of earworm from a Marvel show. And then they go and bookended the year with "Save the City." Damn them.
Agatha wasn't the villain of Wandavision. It wasn't Mephisto, or Ultron, or the military guy who hid the real Vision's corpse.
It was grief.
A feeling we'll all experience at some point in our lives.
A universal truth that binds king to peasant.
And as incredible Elizbeth Olsen is throughout the entire series, Vision gets the most powerful line of the series:
"But what is grief, if not love persevering?"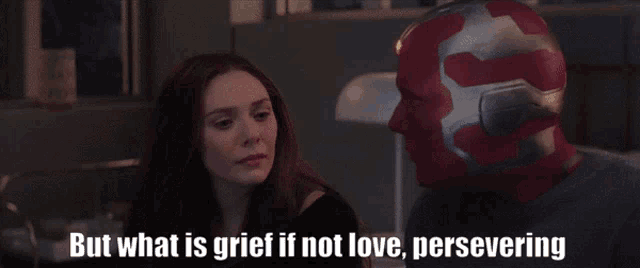 There it is. A single line that beautifully encapsulates the entirety of an emotion. Laura Donney deserves some kind of award for it. 
Actor I "Discovered": 
Jonathan Majors, Loki, The Harder They Fall, Lovecraft Country
After absolutely crushing it as "He Who Remains" in the finale of Loki, I decided to do a deeper dive into Majors' CV. Not qualifying for this blog, my favorite watch of 2021 was 2020's Lovecraft Country. The premise is essentially "Sci-fi/fantasy drama about the dangers of racism and the black experience in 1950's America. With magick and and potions and succubus demons." And it worked.
For a relative unknown in Hollywood, he carried a big-budget HBO show on his shoulders. It's a shame it won't get a sequel season.
He's also the lead in The Harder they Fall, on Netflix. It's a Western. It's got an incredible cast. That's about it.
I'm gonna link to his performance as "He Who Remains/Kang" in Loki one more time. It's a masterclass of an actor playing with specific words, on-set improv, and just commanding the screen in every frame.
Best Tracking One-Shot:
Schmigadoon – Kristen Chenowith, Apple TV+
I love one-shot long takes. The meticulous amount of planning and detail that go into one is awe-inspiring when it's done right. See Hawkeye's car chase, Creed's first fight, and True Detective Season 1's drug chase. Cary Fukanaga (the director of that AMAZING True Detective one) does one in No Time to Die, but it's pretty uninspiring. 
The trick with these tracking shots are the creative cuts – where the camera passes behind a wall that cuts off the action and then resumes (this is how they shot the entirety of 1917). 
That's what makes Ms. Chenowith's performance even more remarkable. Four minutes. No cuts. At least no obvious ones like in action scenes. Four minutes of singing, the camera entirely focused on her, meticulously choreographed with dozens of extras.
Worst Thing I Watched: 
Space Jam 2, HBO Max
I'm pretty discerning when it comes to what I watch. I'll read reviews, watch trailers, and try to get the "vibe" of the show or movie before I set out to view.
But the HBO Max streaming/box office simultaneous releases eased my standards a little bit. 
I never would have gone to the theaters or paid to rent Space Jam 2. But already paid for? Sure, let's give it a go. 
Rather than go into what was wrong with it (97% of it) I'll divulge the two positives. 
Don Cheadle chewing the scenery in every scene. 
A joke about Michael Jordan coming to give the Toons a pep talk during halftime, but it's Michael B. Jordan. 
Every other part of the movie is garbage. It's just a long ad for HBO Max's Warner Brothers content.
At least The Lego Batman movie was funny about it.
Additionally, I did give Godzilla vs. Kong a go thanks to HBOMax, and it's as bonkers as it sounds. If you don't have any expectations, you won't have disappointments.
Worst Thing I watched (Runner Up): 
Handmaid's Tale Season 4, Hulu
They have no idea what they're doing anymore. I'm going to guess Season 5 is the last one.
Best individual episode of any show:
"Beard After Hours," Ted Lasso Season 2, Apple TV+
Tacked onto/into Season 2 after Apple ordered 2 additional episodes onto the original 10 (the other being the enchanting Christmas episode), Beard After Hours takes us on a journey with Coach Beard, Ted Lasso's one-liner-flinging second-in-command. 
It's the lowest-rated of any of the 22 episodes of Ted Lasso, as fans either loved it or hated it.
For me, it had all the juicy one-off bits with enough connective tissue to the rest of the series to make it stand apart from the show itself. From numerous layers of pop culture references, to the bits with the hostess, the yuppies, and the woman in red, to the more cinematic style the episode is shot in, it just feels different. It's postmodern. And I guess that's where the fan division comes from. 
I don't know about you, but it felt exciting to watch a show have an episode that completely subverts your preconceived notions of said show. 
Runner Up: Best individual episode of any show:
"The Boy From 6B," Only Murders in the Building, Hulu
It's an entire episode where all of the dialogue is in either ASL or through subtitled lip-reading. 
I can't do it justice. This article can. 
Final TV Thoughts:
Wandavision
Loki
What If…?
Hawkeye
Captain America and the Winter Soldier
Billy Eichner as Walt Whitman on Dickinson is my favorite one-off character of the year.
I love that Invincible just….existed. It didn't bother with backstory on side characters. They did what they did, and it's ridiculous (ie the entire Robot subplot), and is completely unapologetic about it. It's their world, and we're dropped into it.
I'm really glad Kevin Can F**k Himself got picked up for Season 2. The gimmick pulls you in, and Annie Murphy keeps you there. 
Final Random Movie Thoughts:
I imagine this was Zack Snyder on seeing the reviews of Joss Whedon's Justice League:
Snyder's cut was epic. In every sense of the word. Whedon had one single line of dialogue that was quippier. Everything else Snyder did better.
Ranking of theatrically-released Superhero Movies
Spiderman: No Way Home
Shang-Chi
The Suicide Squad
Eternals
Black Widow
Venom: Let There be Carnage
When it's released on home media, give Last Night in Soho a watch. A pair of brilliant performances (Taylor-Joy and McKenzie) shouldn't go under-the-radar. 

Dune was "meh." No, I haven't read the book(s)
No Time to Die was a proper send-off for Craig's Bond. But good lord, put Ana de Armas in EVERYTHING.
Tenet is one of Nolan's worst works. 
And if you've made it this far, I thank you.
Here's what I'm looking forward to in 2022 (That aren't MCU-related, because I'm going to consume them anyways):
TV
The Last of Us – HBOMax
Barry Season 3 – HBOMax
Stranger Things Season 4 – Netflix
The Afterparty – Apple TV+
Our Flag Means Death – HBOMax
That's right – no Game of Thrones House of the Dragon or Lord of the Rings Amazon series. I have this sickening feeling that they're going to try WAY too hard to be as ballsy as GOT was a decade ago. And they'll just end up in the pile of generic sci-fi/fantasy shows that get tossed aside. Like Wheel of Time or Invasion.
Movies
The Batman
The Bob's Burgers Movie
Don't Worry Darling
Spider-Man: Across the Spider-Verse (Part One)
Knives Out 2